Some stories tell more about the narrators of histories than their characters. One example is the story about tattoos in Ancient Egypt. Tattoos, as well as other forms of body modification, have been an integral part of virtually every ancient culture. However Egyptologists found more male-tattooed mummies in ancient burial places than female mummies. Since tattooing seemed to be an almost "exclusively female practice in ancient Egypt," writes archeologist Joann Fletcher, "mummies found with tattoos were usually dismissed by the (male) excavators who seemed to assume the women were of 'dubious status,' described in some cases as 'dancing girls.'"
However, there is not evidence to indicate that tattoos from ancient Egypt were used to mark dancers, prostitutes or concubines. This makes them of no interest for some archaeologists. One mummy described as a concubine "was actually a high-status priestess named Amunet, as revealed by her funerary inscriptions." Early archaeologists stubbornly clung to derogatory 19th-century assumptions about tattoos (and class, dancing, sex, and religion), even when discussing tattooed Egyptian women whose burials obviously showed they were priestesses or extended members of a royal family.
Until relatively recently, "the most conclusive evidence of Egyptian tattoos," writes Joshua Mark at the World History Encyclopedia, "dates the practice to the Middle Kingdom" — spanning the 11th through the 13th Dynasties (approximately 2040 to 1782 BC). The British Museum researchers took a second look in 2018 at two predynastic bodies that had been naturally mummified for 5,000 years. One was male, the other female. These bodies date from 3351 to 3017 BC. The British Museum researchers looked for any signs of body modification not previously seen by Egyptologists.
These bodies, also known as the Gebelein predynastic Mummies are just two of six that Egyptologist excavated in the 1800s. Sir Wallis Budge. Through the use of CT scanning, radiocarbon dating and infrared imaging, the British Museum has found that previously unexamined marks "push back the evidence for tattooing in Africa by a millennium," the Museum blog These notes will detail the findings.
The male mummy, called "Gebelein Man A," showed a design on his bicep:
His arm was covered in dark smudges that appeared as tiny marks under natural sunlight, but they were not examined. Recent infrared photos revealed that the smudges were actually tattoos from two slightly overlapped horned creatures. These horned creatures have been tentatively identified to be a wild bull with a long tail and elaborate horns as well as a Barbary lamb (curving, pointed horns, humped shoulders). Predynastic Egyptian art is well-versed in both animals. They aren't superficial, and were applied to the skin's dermis.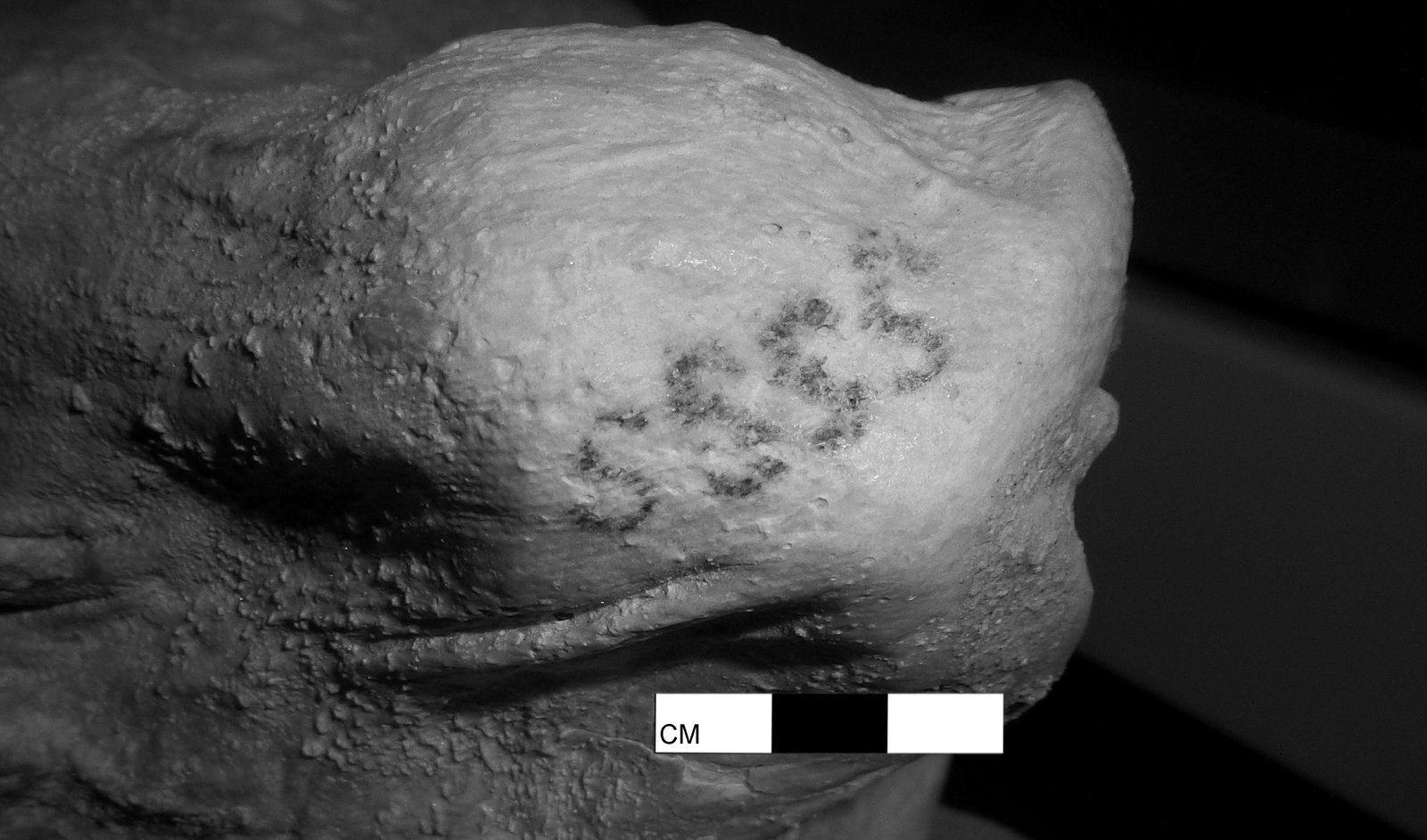 The female mummy, or "Gebelein Woman," showed more intelligible markings:
[A] series of four small 'S' shaped motifs can be seen running vertically over her right shoulder. A linear motif is located below them, on her right arm. It is similar to the objects that were held during ceremonial activities using painted ceramics from the same time period. The crooked stave could represent power and status. It also may be used as a throw-stick, baton/clappers, or symbolizing ritual dance. The 'S' motif also appears on Predynastic pottery decoration, always in multiples.
A series of tattoos were used in Middle Kingdom tattooing. They seemed to offer protection against fertility and childbirth rituals. Even if their meanings remain unclear, Marks writes, it does, "seem evident that they had an array of implications and that women of many different social classes chose to wear them." And it does seem clear that tattooing was important to ancient, Predynastic men and women, maybe for similar reasons. Tattooing tools have also been found dating from around the same time as the Gebelein mummies, excavated at Abydos and consisting of "sharp metal points with a wooden handle."
The dating of Gebelein Man A and Gebelein Woman place them as approximate contemporaries of Ötzi, a naturally mummified man covered in tattoos. Discovered in 1991 on the border of Austria and Italy, Ötzi was previously considered the oldest tattooed mummy. You can learn more about how the British Museum re-examined the Gebelein bodies in the "Curator's Corner" video above with curator of physical anthropology Daniel Antoine. Read more about the findings at the British Museum's blog And the Journal of Archaeological Science.