Nahaan was one of the featured artists in the exhibition. Nahaan contributed the photograph
The revitalization and rich history of Indigenous tattooing is the subject of a touring multimedia exhibit that's currently on display in "Surrey."
Language for the Body Can be viewed in both virtually You can also visit the Museum of Surrey in person until September 4. You will find photographs of Indigenous tattoo artist and their work as well historical photographs. There are also a number of videos, paintings and sculptures by these artists.
Nahaan, one of the designs featured in this exhibit, says that it is an ancient practice about identity.
"These designs would signify where we're from and who our family is, and through that process, our rights, responsibilities, obligations, and privileges," he says.
"So, it really is to signify who we are and identify who we're related to, and that is really important to every aspect of our culture."
Skin stitch and hand poke
Nahaan, who introduces himself in Łingít, is Tlingit and is from the Killer Whale Dorsal Fin House. Nahan's familial lineage is Iñupiaq from Nome by his mother, Kaigani Haida from his father, and Paiute from Fort Bidwell by his biological father.
Born and raised in "Seattle, Washington," Nahaan began with crest design in wood carving before turning to tattoos in 2009.
"I'd never really planned on doing tattoos," he says, describing how he started tattooing
"At the time it was with a machine, but it was still doing formline crest design work. I've never done numbers or letters," says Nahaan.
"It's always been ancestral work, either from my people or from the client's people," says Nahaan.
As a child, he started researching the Tlingit formline. His relatives were carvers and he says they influenced him. He would receive large sheets of formline drawings in poster size, which he would color.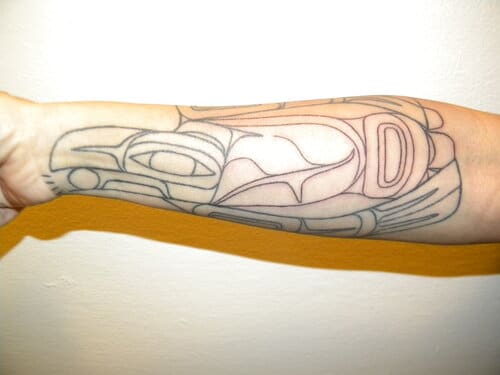 "That influence was always there, the research was always there, and the confidence from my community was always there. When it came to tattooing, my community was like 'Yeah, go for it, bro!' and offered up their skin. It was always 110 per cent support," says Nahaan.
"As for a methodology, I put down the machine in 2018. Since then, I've been doing hand poke, skin stitch, hand tap, and scarification."
Nahaan and Nakkita Trimble, who is Nisga'a and is also part of the exhibit, explain the tattooing methods they use. Hand poke tattooing You dip a needle in ink to make piercing holes under the skin. You soak the thread in ink, then move it in and out of your skin with the skin stitch. Scarification refers to when you trim the skin, then ink the affected area.
Nahaan reports that it used to be very common for people to tattoo at potlatches. The Potlatch Ban It was made illegal for Indigenous peoples to practise culture, and prohibited ceremonies like the potlatch from 1885-1951.
"I hadn't heard of anybody tattooing at a potlatch in recent times. Now, that's around a little bit," he said, and in 2016 and 2022 he completed tattoos at potlatches.
Tattooing oral histories
Nakkita shares with us her Nisga'a name, Algaxhl Gwilksk'alt'amtkw, Speak Through Art, and is Frog Clan from the Nisga'a Nation. She is from the Kincolith in the "Nass Valley, B.C."
Born and raised in "Prince Rupert," art has always been a part of Nakkita's life. When she was young, she took dance lessons, watched her family make regalia and saw Indigenous art displayed in the place where she grew. And although she once tattooed herself as a kid, tattooing wasn't an immediate or clear path.
"I remember tattooing myself when I was around nine or 11 with ink and a needle; of course, the tattoo eventually faded away. I tattooed my grandmother's initials," she says.
"I really began to understand how to put formline together after attending the Freda Diesing School of Northwest Coast Art. Dempsey and Bob were my instructors. Stan Bevan, and Ken McNeil."
Nakkita started tattooing in 2011 and began to research the tattooing techniques of her ancestors in 2013.
"In my early 20s I was having dreams about tattooing formline on a bear hide," says Nakkita.
Because of colonization, tattooing was a dying art in the community.
"I was able to talk with the Elders in my community and my grandmother about traditional tattooing and with their permission and support, I recorded our oral history of traditional tattooing."
"All I had were papers in a binder of my own research," says Nakkita. But, eventually, she gathered enough information to hold an exhibit on the history of her nation's tattooing practices at the Nisga'a Museum in 2015. She hopes to one day be able pass on her experience and her knowledge from her years of practice.
Nahaan started to explore the art form even though very little information was available.
"When I first started doing traditional tattooing, there was nobody around doing crest work, so there was nobody I could talk to about it. No hashtags on Facebook or Instagram," he says.
Nahaan as well as Nakkita explain that tattoos tell the world your identity. However, a crest can also show who your family is, your origins, and your responsibilities.
"It's about identity. We are building up the parts of ourselves that we always had," says Nakkita.
Curating of the Exhibit
This was the original edition. Body Language It was featured in the Bill Reid Gallery, 2018-2019. Dion Kaszas of the Nlaka'pamux Nation in collaboration with the museum's curator, Beth Carter.
"I managed to connect with Dion as he was just finishing his masters that focused on Indigenous tattooing traditions," says Carter.
Because the Museum of Surrey has the Indigenous Hall, it will not be able to display all of its pieces.
Carter and Dion received a grant that enabled them to add four artists to the exhibit, Nakkita Nahaan, Corey Bulpitt from the Haida Nation, Dean Hunt of The Heiltsuk Nation, and Nahaan.
Carter and Dion were able to find examples of Indigenous tattooing from cultures throughout Asia, Japan and the South Pacific. They also found evidence in Inuit tribal tattoos in Alaska. Carter claims that Carter did not find consistent written or photographic evidence of tattoos among First Nations on the Northwest Coast.
"The archival information is a lot of missionaries and anthropologists coming through in the 1800s and recording information, and that information is uneven," says Carter.
The artists delved into oral histories, and other historical sources.
The curators and artists discussed what tattooing means to them. This became the foundation for the exhibition: Reclamation.