There are so many styles of tattoos to choose from, including intricate Japanese designs, vibrant new school pieces, and the simple, classic American tradition. Artists are constantly looking for innovative and creative ways to express themselves. One of the latest trends in tattoo design is the fine-lined, ethereal style.
Although you might not recognize the style, it is possible to have seen fine-lined tattoos on celebrities. Sophie Turner, the "Game of Thrones", star, has numerous delicate designs on her skin. One example is a tiny tattoo of the North Star along her spine that was done by Winter Stone, a renowned Hollywood tattoo artist (via Instagram).
Social media has taken fine-line tattooing by storm. There are many beautiful examples that can be found on Insta or you could start a Pinterest board. What makes fine-line tattooing different from other styles? And what do you need to know about it before you get one for yourself?
What is a fine-line tattoo?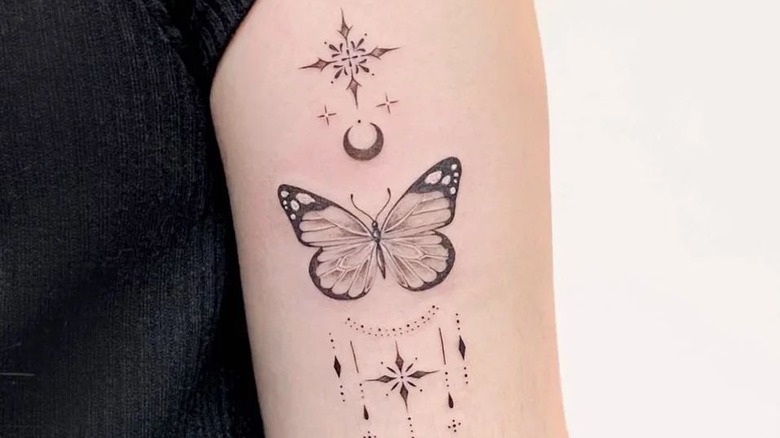 At their core, fine-line tattoos are exactly what they sound like — extremely delicate designs created with thin linework. These pieces are usually done with black ink and a very precise needle. They avoid bold lines or gradations that can be seen in other styles (via Chronic ink Tattoo). This gives it a smooth and refined look, much like an ink drawing made on paper.
They are small and simple, so fine-line tattoos often have a strong association with minimalism. Although it's not impossible to have a large and intricate back piece for someone who is a purported minimalist, fine-line inks are often in line with the minimalist concept of less being more. It could be that fine-line tattooing tends to use a delicate script or dreamy, sketch-like outline, as well as the application of tiny micro-tattoos.
Winter Stone, a fine-line tattoo artist, tells Mic that minimalism is in fashion right now and that micro designs are aesthetically appealing to many. People have gained a better understanding of what goes into making this art form and are now able to appreciate it as something unique that not all artists can do.
Here are some things to consider when you get a fine line tattoo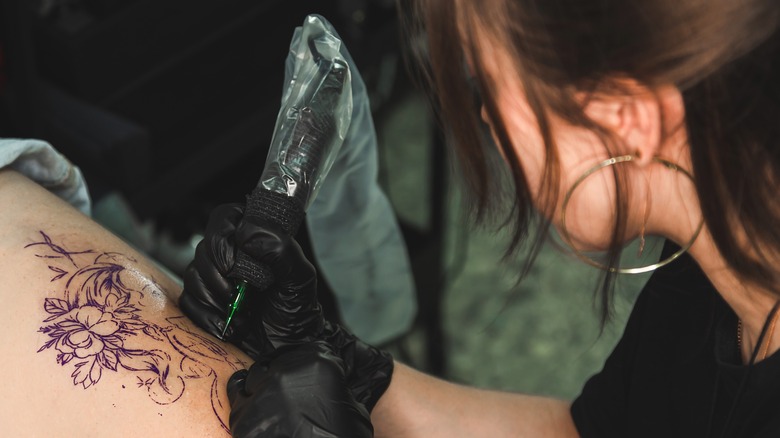 Fine-line tattoos are attractive to some people not only for the look but also because they can be more comfortable (via NYC Tattoo Shop). These designs have their downsides. Your artist has a smaller margin of error with these designs. Fine-line tattoos require precise execution because they have no shading or color to conceal. It is important to choose an artist who can execute this style.
Fine-line tattoos require more frequent touch-ups in order to keep them looking new. The thinner and less visible ink deposits will dissipate more quickly into the skin. They may fade and look indistinct, even in the best case scenario. As the ink naturally bleeds into skin, more intricate pieces may quickly blurred.
Fine-line tattoos don't have to be a bad idea. They just need to been approached with care. Ask your artist for suggestions on placement, size and details. This will ensure you get a lasting tattoo.
The upside is that fine-lined pieces are easier to heal once you have your desired tat. Popsugar is told by Pobi, an Ink & Water Tattoo artist, that the tattoo won't scab as much. It is common for thicker tattoos to scab during healing. However, this will not be as noticeable with finer-lined pieces.