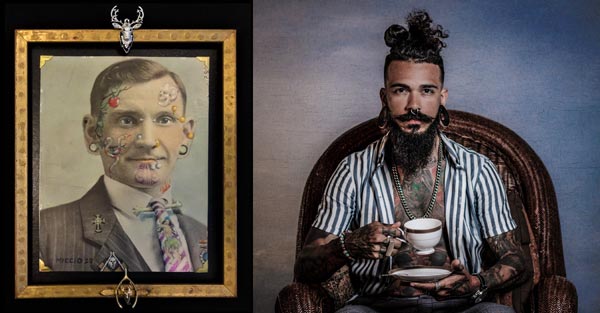 "Bold Will Hold," the exhibition on view now at Artworks TrentonThe exhibition, titled 'Tattoo Art in Broad and Accessible Perspectives', offers a wide-ranging view on tattoo art. The exhibition will run through Nov. 19, with an artist reception Friday, Nov. 4, from 6 – 9 p.m.
The Trenton Punk Rock Flea Market curated the exhibit, which features work from two dozen tattoo artists as well as those inspired by them.
Artworks has an exhibition page that explains tattooing as an ancient art form. "For thousands of years, tattoos and the artists that create them have utilized their human canvases to tell tales of survival and the hunt, lost love, life at sea, and the weary road traveler."
Tattoos are a new form of creative expression that has emerged out of the shadows.
I asked Artworks' Artistic Director Addison Vincent why the gallery chose to feature this exhibition.
"We have partnered in the past with the Punk Rock Flea Market," Vincent said, "and featured exhibitions that focus on the counter-culture scene and its impact on society."
"A large number of artists in the Trenton area are part of this and we think it is important to shine a light on art that is outside the mainstream."
As with other creative works not made in what one might consider a "traditional" artistic domain, controversy has arisen over whether tattoo art is Art. Vincent was kind enough to share his thoughts.
"Absolutely yes," he said. "With this exhibition, we are making that statement about tattoo culture and demonstrating that tattoo art and works inspired by tattoos have all the elements of any art form. The only difference is that the canvas is skin."
As writer Katie McGrath said in a November 2017 online Artsy article, "If art's purpose is to challenge viewers – to make a statement or alter one's perceptions – then can't a tattoo be considered art, too?"
Fast Ali (Ali Mennor), who is a tattoo artist and painter, spoke to me. She runs Lost and Found Tattoo Studio, which she shares with Pete. It's located on the first floor in her Cranford childhood home, New Jersey.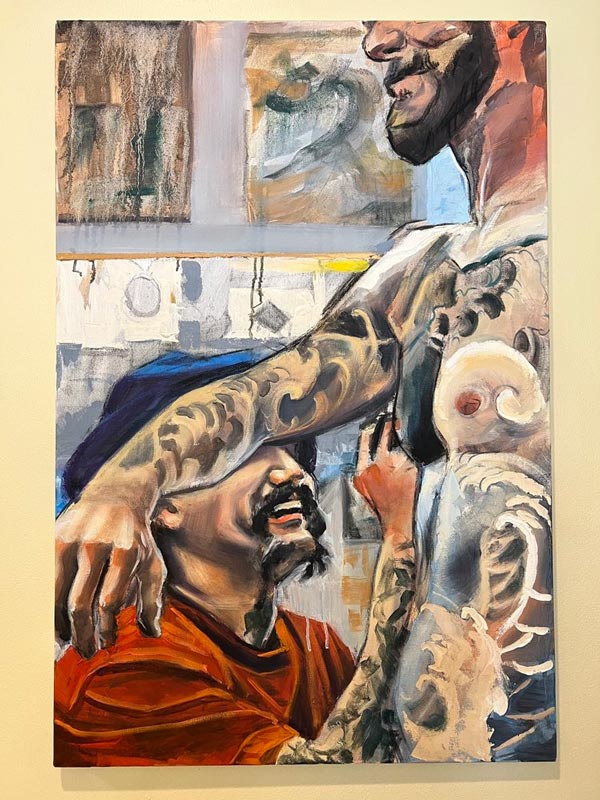 Fast Ali, "Filip and Pete," oil on canvas, 24×36"
Mennor told me that getting a tattoo twenty-some years ago "changed her life."
"I got my back tattooed in 2000 by this masterful artist, Filip Leu," she said, "and living with it showed me the power of having beautiful artwork, by an artist whose energy I can feel, on my body."
Ali got her first tattoos in her 30s. "It was a way to make art and make a living," she said. It was what she liked most about the job that I asked her. "I love interacting with my clients and having them bring their ideas to me," she said. "I thrive on my clients' input. It feeds my creative process."
Ali also has a unique specialty – she does nipple tattooing. "I discovered it through a friend who is an artist in Philadelphia and went on to get certified to do that work."
"That was my light bulb moment," she said, "realizing I could use what I know to help people."
The process does not apply only to cancer patients, contrary to popular belief. "I do it for people after elective surgery, for example and for others, like transgender men." "It's really important work for us," she said.
One day per week she dedicates to these clients. It gives them privacy and comfort. Mennor has a high reputation in the community because of her work. "I had a client who went back to her cancer doctor after getting the tattoos," she said, "and the physician was so impressed that he began to refer people to me.
Mennor's piece in the show is a large oil painting of her husband Pete getting tattooed by Filip Leu. And she thinks it's a good fit.
"The theme is "Bold Will Hold," she said, "and Pete's tattoo is that – it is bold, and it will hold. "You will be able to see it from across the street, and you'll be able to see it for years."
Photographer David Timothy has three works – all portraits – in the show. While he photographs many different subjects, his greatest joy is photographing people.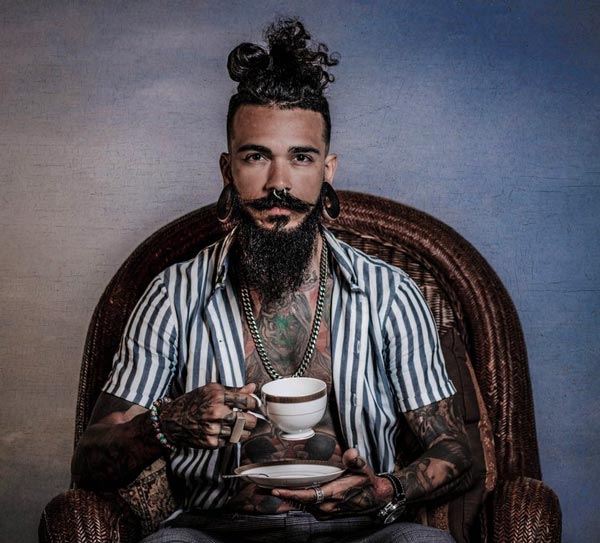 David Timothy, "High Tea," photo on canvas, 24 x 24"
Timothy is a North Carolina native who felt that he wasn't at home in the rural North Carolina landscape. He also felt lost and confused as he grew older.
"I remember being a young boy, driving near our home and seeing signs that said, "Body Shop" and "Body Repair," he said. "I thought to myself that, when I was older, maybe I could go to one of these places and get my body fixed."
"My work focuses on how people present their inner selves outwardly," he said. "They do that in many ways – their clothing, their hair and their skin." And although Timothy has no tattoos or other body adornments, he is fascinated by those who express themselves through how they decorate their bodies.
"When people choose to ink their skin, for example, it tells me about who they are," he said. "It's very personal to them, but also very visible. They are aligning their bodies with their inner selves."
"One of the images I have in the show, "High Tea," was done in the studio. Even though he is tattooed and pierced, he still brought fashionable clothing.
"What a juxtaposition."
So, Timothy built the portrait on that – posing this man holding tea in a fancy china cup and saucer. This portrait is a strong statement.
"I am blown away by this generation that is owning who they are and defining it," Timothy said. "And even with an image like a rose or a butterfly that may seem simple, there is usually some meaning that explains why it was chosen.
"All of these images have meaning to the person."
Marge Miccio chose mixed media as the medium to convey her message. She made her mixed media piece, "Blood Brotherhood," specifically for the show, and I asked her what it was about the theme that drew her in.
"It was inspirational to me," she said. "It's colorful and fun and struck me as something that I wanted to play with."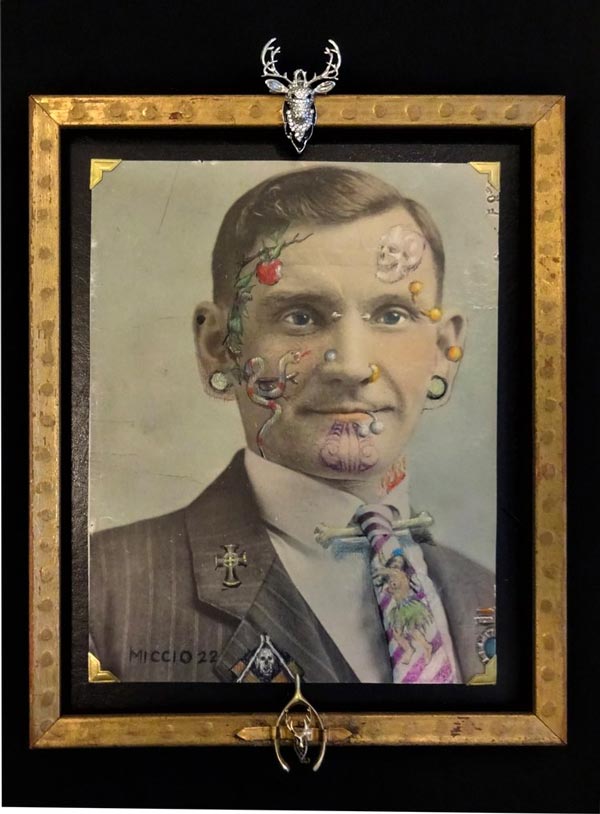 Marge Miccio, "Blood Brotherhood," mixed media, 10.5 x 8.5"
Miccio explained that her recent artwork has included vintage photographs. "So, I took this photograph and enlarged it, and then I put tattoos on him," she said. "I really went to town."
"The images on the skin refer to death (skull), the Garden of Eden and the eternal culpability of women (snake and apple), and tribalism (Maori-style chin tattoo.)"
Miccio stated that she was a former picture framer who used to be able to make antique frames. Miccio completed her work with a vintage frame, and then added an ornament to match the theme.
"The title of my piece and some of the iconography refer to fraternal affiliations, like the Elks, Woodman of the World, Masons, etc. The ornaments on the frame are cast metal animal heads, paired with tools and jewels, also common in fraternal imagery," Miccio said. "Each frame ornament is made up of five different pieces joined together to create the desired impact."
Miccio answered my question about what subject interests her most in order to help her with her writing.
"My recent work is more political, actually, which helps me express myself and purge my emotions," she said. "I can feel the pressure leave my body when I am up in my studio working. It is like a release valve."
Like so many who make art as adults, Miccio started when she was young – and never stopped.
"It's something I feel like I have to do," she said, "and something I can continue to do throughout my life."
---
The author Jersey Girl, music lover, and culture geek – Shen Shellenberger has made a career of her life-long love of the arts. Shen Shellenberger is a Jersey-born journalist, with 25 years of freelance writing experience. Whether it's the beauty of a classic painting, the dynamics of contemporary dance, or the raw energy of rock 'n' roll, Shen brings her perspective to whatever she covers.
The following content was provided by
Discover Jersey Arts
The ArtPride New Jersey Foundation is collaborating with the New Jersey State Council on the Arts to create.