Twenty-four-year-old Ryan Garcia remained unbeaten after knocking down Javier Fortuna Last year, on July 16th. This month, the orthodox boxer will be taking part in a historic match that could determine his future. His Hollywood looks galloped along with his boxing skills have caught the attention of a simmering public who wants to learn more about the life of the orthodox boxer.
The amount of money Garcia has made over the years is one of the things that boxing fans have talked about most. The glitzy photos of him with high-end vehicles also add to his aura. Many of his fans prefer to learn more about one of his newest acquired tastes: the striking tattoos that adorn both his upper torso and his hands.
Ryan Garcia's tattoos: What does the star boxer think about inking his body?
It would be interesting before reviewing the tattoos, to know the thoughts of the person who is looking at them. According to an article published on TMZ, Garcia is insecure whenever fans and followers close peruse and comment on his body artwork. Last year @JomboyMedia shared a two-minute clip of an interview with 'KingRy.'
Boxer Ryan Garcia reacts to mean tweets 🤣 pic.twitter.com/kSzMaeIse5

— Jomboy Media (@JomboyMedia) May 20, 2022
He also read some reactions from fans, including one about his tattoo. "All that money and Ryan Garcia's tattoos look like he downloaded them off 2k." Ryan Garcia laughed out loud about being judged by onlookers. He said, "Yo, I'm so insecure about my tattoos!" Let's review a few of the most well-known tattoos the young boxing superstar often displays.
Ryan Garcia's Tattoos and their meanings
'Warrior' tattoo on his left shoulder – According to reports, his first tattoo was on his left arm. In his words, it symbolizes what 'Ryan Garcia' is about. Since he is a 'warrior,' a tattoo should speak aloud in likeness. "The first tattoo I ever got this was the warrior one; that's just what I am. What I am saying is clear to you," he said.
'Lion with Crown' Tattoo – You can also find out more about the following: 'Lion with Crown' Started gracing the left pectoral on January 8, 2020. Reportedly by a renowned tattooist Dr. Woo, it denotes the qualities closely resembling the traits of a Lion, the 'King of the Jungle,' such as bravery, strength, and power.
'SHOCK THE WORLD' Tattoo – The next tattoo the California-born boxer adores is the 'SHOCK THE WORLD' Tattoo. As the very words express, it means to go ahead and do something that jolts the wits out of everyone's mind. Ryan Garcia said, "I got the tattoo of another message, 'Shock the World.' Doing things that people don't think you could do."
Tattoo near his left wrist – Ryan Garcia, one of the mysterious candidates, said it mimicked his nature. People are often left confused, and the Californian is happy to let them form their opinions around it. "I'm okay if someone can decipher what the tattoo means." "…I said I'll let you guys guess what this means, and if anybody could figure it out, I'll let them figure it out," Garcia said.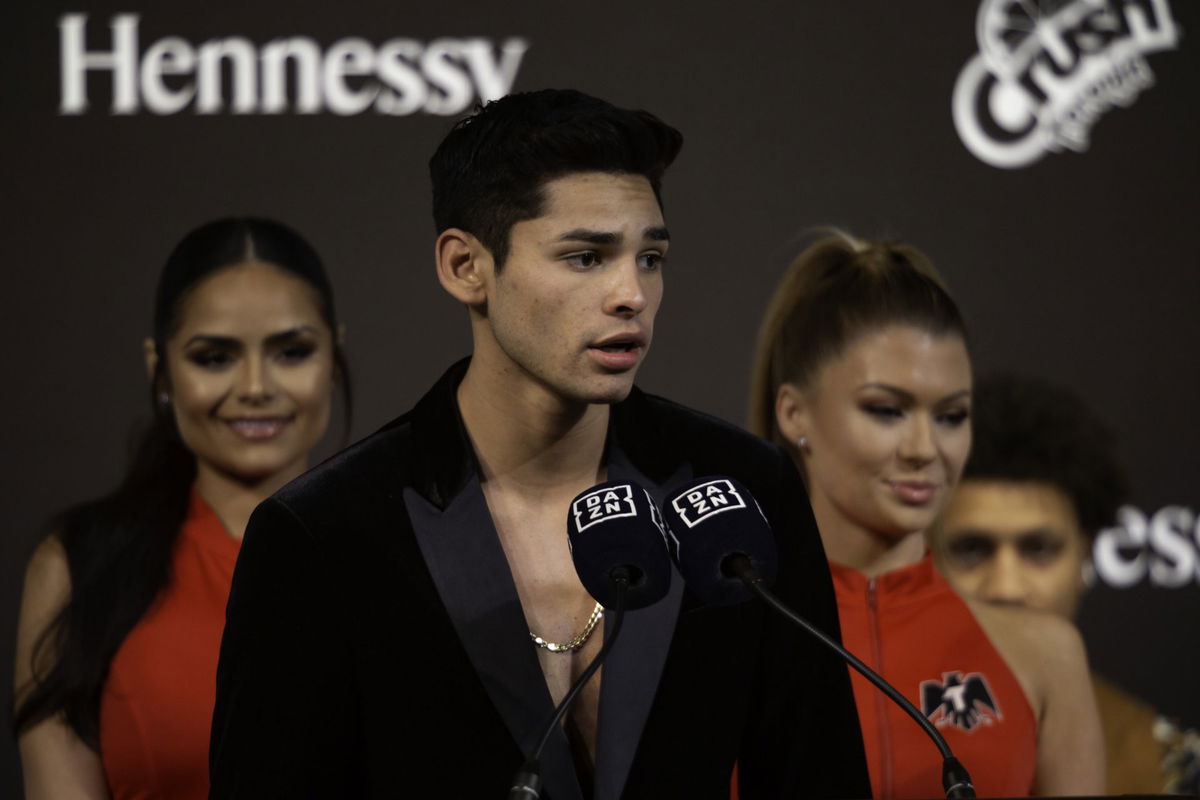 Cross Tattoo – Ryan Garcia is a person of faith. Receiving his baptism in 2021, he displays his seriousness about his belief systems and has a 'Cross' tattoo on his right forearm. He said about the ink, "The cross [tattoo signifies] The strength and power of my right hand. Don't underestimate the left one either, as it too has got that power."
Dove Tattoo – The 'Dove' on his left pectoral is the universal symbol of peace. According to reports, Dr. Woo, on February 25, 2020, Garcia corresponds with the holy spirit. He said, "I was able to get a dove tattoo on my body, which represents the Holy Spirit that guides and leads me."
'Laurel Crown' Tattoo – Laurel leaves, since ancient times, have symbolized virtues such as triumph and nobility. Hence a laurel wreath or crown invites immediate respect as it connotes a person's achievements. Ryan Garcia must've felt that it was fitting to celebrate all he had accomplished in the last 24 years and so he instructed Dr. Woo to tattoo it on his neck. It was done by the venerable artist on February 25, 2020. What's your take on Ryan Garcia's tattoos? Please share your thoughts and opinions in the comments section below.
Comment on or share this article